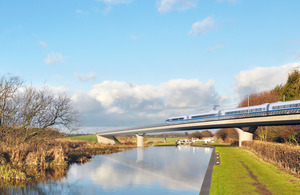 HS2 is a point in time where our politicians have not told the British people hardly any of the facts. Indeed, if they knew what they were doing, they would have published the true facts of what had been reported around the world and where these have been hugely negative on the socio-economic outcomes and more so, the economic outcomes. That is the problem with politicians and how they operate behind the people's back and behind closed doors. In this respect industry and business lobbyists see our politicians behind closed doors and no-one other than the politicians with their civil servants (officially sworn to secrecy under Parliamentary orders) and the industry lobbyists know what has been discussed. The next news is that things like HS2 are announced to the world and that is the first that the people 'really' know about such things as HS2. But of course when finally announced it is all positive for the people and the nation and no real negative overtones, but where the real truth is based upon historical evidence and in the case of High Speed rail (HSR) over the last 55 years, that HSR is not what the politicians profess and nowhere near the truth.
For what happens in the United Kingdom is that if politicians want something they will ask Whitehall civil servants to do their duty (highly paid of course and the don't rock the boat mentality at any cost) and provide a feasibility document with a view to a 'White Paper'. This whatever happens has to be positive for the politicians when it is released into the public domain for obvious reasons. Therefore a realistic cost is determined that may be say £100 billion, but where the politicians know that the taxpayer would not support such a project at that price, so the real price is halved or even quartered, but substantially less than what the real price is. So then when the project is released with a price tag of say £50 billion or less the people then think that this is real value for money. In the case of HS2 the cost at 2013 prices was as follows extracted from HS2: Outline Business Case Section 4: Financial Case, Department of Transport (2013)
Phase 1. - London to Birmingham – £19,400 million
Phase 2. – Birmingham to Leeds – £19,000 million
Rolling stock - £6,900 million
Total Estimate – £45,300 million
But downgraded by the DOT to £42,600 million due to purported savings.
The initial cost at 2013 prices for HS2 when it was announced to the public was £32,700 million and where this is an increase of in real terms of £9,900 million or if you take the DOT without possible savings, an increase in real terms of £12,600 million (a percentage increase of 30.28% and 38.53% respectfully and huge in itself for the UK taxpayer)