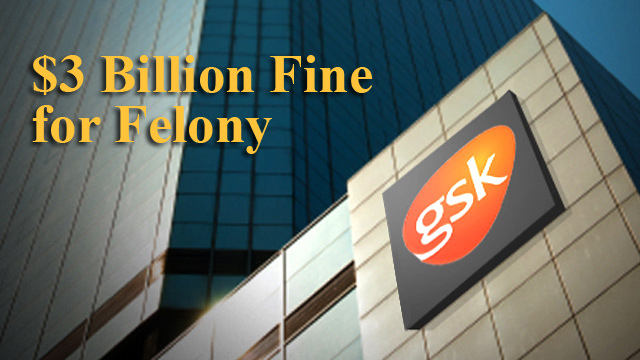 The following is a List of out of court settlements (Agreed with the US Justice Department) of the top 12 Pharmaceutical companies in the world at the end of 2013 (there have been many more since, as they have no respect for the 'rule of law'). It is therefore only the 'tip' of the iceberg in terms of illegal business dealings with the public, taxpayers (who pay through drug costs for all this corruption), governments and the world-at-large.
It should be quite clear now that big pharma is 'only' interested in vast profits and basically has no empathy or real feeling for humanity other than it being a continual and immense cash-cow for them, creating the highest profit business industrial sector on the planet. Their actions and out-of-court settlements speak volumes and where history does not lie. But where also our 'so-called' peoples' politicians and leaders pamper to their every whim and corruptive enterprise ways without any meaningful reprisal. Indeed, all that they do is apparently pay billions upon billions of the taxpayers' money to line their deep pockets with every more silver and their current 'blind' and misplaced judgement in thinking that there is a cure for continually mutilating influenza/respiratory human killer viruses, is a pointer. For there has never been a single one to date even though the giant pharmaceutical groups have been trying for 150 years now, as these particular human killer viruses change continuously and last years' so-called vaccine, is out of date before we get it - a fool's journey in other words. But of course through this immense 'con' on the people of the planet, they receive non-ending trillions over the years without relent and no real payback to the people.
In this respect and to the point in the latest edition of the "Journal of the American Medical Association"(March 2020 analysis) in a study of 35 large pharmaceutical companies it showed that from 2000 to 2018 (a mere 18 years) they had revenues of $11.5 trillion and a gross profit of $8.6 trillion – yes they made, 8,600,000million profit or around 75% profit mark-up before the rich 1% shareholders et al got their grubby little hands on it.
. So we are being 'conned' as I say every day of the year by these 'so-called' kind and humanitarian business behemoths in the interests of trillions of dollars on an ever increasing scale (paid indirectly again by the taxpayer - the 'people') and totally immoral to humanity if truth be told.
For the major drug companies throughout the world are continually being found out for criminal and fraudulent activity in order to sell their pharmaceuticals. Not me saying this but the world's media coverage and the out-of-court agreements that they have settled and where in the past 5 years alone fines in excess of $17 billion have been agreed between authorities and the big drug companies. These include but where they are not a fully exhaustive list of examples,
$4,700 million - Johnson and Johnson (2018)
$3,400 million - GlaxoSmithKline (2006)
£3,000 million - GlaxoSmithKline (2012)
$785 million - Pfizer (Wyeth) (2016)
$1,200 million - Teva (2015)
$2,200 million and $2,5 00 million ($4,700 million in total in a mere year) by Johnson &Johnson (2013)
$500 million - Daiichi Sankyo (2013)
$762 million by Amgen (2012)
$1,500 million by Abbott (2012)
$95 million by Boehringer Ingelheim (2012)
$109 million by Sanofi-Aventis (2012)
$950 million by Merck (2011)
$520 million by AstraZeneca (2010),
$750 million by GlaxoSmithKline (2010)
$423 million by Novartis (2010)
$600 million by Allergan (2010)
$2,300 million by Pfizer (2009)
$1.42 billion by Eli Lilly (2009)
$650 million - Merck (2008)
$425 million by Cephalon (2008)
$600 million - Purdue (2007)
$515 Bristol-Myers Squibb (2007)
$704 million - Serono - (2005)
$500 million - Schering Plough (2002)
$875 million - TAP (2001)
- Source for all from the US 'Department of Justice' and world media sources. Note also that all of these actions had criminal activity as part of their respective

settlements. But because these huge global concerns make so much money out of selling drugs, these fines have apparently now become an in-built expense in the corporate cost of their drugs. Indeed in GSK's 2012 case in the USA, nearly $30 billion was sold and where it was estimated that even after the $3 billion fine was deducted, a profit of $11 billion was made.
Johnson and Johnson's asbestos laced products are now the highest ever dire case of known substances that are carcinogenic and cause CANCER in the history of the giant pharmaceutical companies and the initial $4.7 billion fine is only the tip of the iceberg, as there are literally 1000s of claims that their products caused cancer to happen in people (babies, mothers, fathers and millions of people who bought their products and where J&J knew that asbestos as an example was in their baby nappies for decades, but said nothing according to Court disclosures). This is what people are dealing with and if they only did their own research (unfortunately only 1% at most do this and why 99% of the public are ignorant of the fact that these vast profit generating corporations, put profits which are the highest in the world by far and continually printing money for their products, above human life itself to attain this end for the very few), they would see how corrupt the pharmaceutical industry really is. Indeed, people should do their own research into these Covid-19 vaccines for an eyeopener and where independent research over a decade by dedicated people (not medical, but intelligent people outside the confines of the medical establishment) has determined that a great deal of the medical profession is based upon lies and mere suppositions with no real physical research evidence to back up what they tell us when it comes to diseases - https://odysee.com/@AllSeeingHeart:0/iatrogenesis-what-really-makes-you-ill:6
Therefore it certainly appears that the accepted corporate environment that these giant corporations have structured internally for themselves has created these illegal activities and where it is of their own making and not predominantly the countries that they operate within - but I have to say though, that it does help if there is government and internal corruption to boot. But possibly the biggest sadness to date has to come out yet in India where over 20,000 of the poorest children in the world (between the ages of 10 and 14) have been used as human guinea pigs for Big Pharma –

http://www.bbc.co.uk/news/magazine-20136654

. Indeed over the past seven years, nearly 2,000 trials have taken place in the country and the number of deaths increased from 288 in 2008 to 637 in 2009 to 668 in 2010, before falling to 438 deaths in 2011, the latest figures available. Therefore the drive for corporate profits has a very dark side to it and everyone should be fully aware of this fact. Apparently this is not a problem for big pharma and where vast profits and greed rise above human life itself. Governments just have to get to grips with these huge corporations and fine then not just a small percentage of their profits but all the estimated total profit.

That is the only way that they will ever alter their corporate mind-set and strategic blue-print.
But where it has to be said as a footnote, that Big Pharma has governments in their grip behind closed doors even though they have their roots predominately in the Nazi era, the holocaust, chemical and biological warfare -
and where their activities have not really changed one iota.
Indeed, the vast pharmaceutical industry with a global annual turnover of over $1 trillion is not in the business of 'cures' but only treatments such as Tamiflu et al. In this respect it is not in their interest to invent cures (only treatments) for then they would kill off the fatted cow and thereafter their would be no need for their drugs, hitting the bottom-line with billions of billions of lost sales year on year. Therefore people are living in a world of deceit, as cures are not really on the agenda for the pharma mafia. Medical science may be (that is totally different to pharmacology), but definitely not the global pharmaceutical industry.
For reason why Nature Magazine undertook the damning assault on the World Innovation Foundation (WIF) was because they took to task one of Dr. Declan Butler's friends (Nature Magazine). In this respect WHO primary advisor Professor Albert Osterhaus stated that he had discovered that Avian flu (bird flu) had jumped into humans and could be transmitted from human to human. This was not true and where Professor Ken Shortridge, a member of the WIF had first determined this. Thereafter when Osterhaus was challenged, Butler led a witch hunt on behalf of his friend Osterhaus and stated lies in the article such as one of the WIF's vice-presidents did not know of the WIF but where Robert Huber had undertaken WIF Assignments in South America. This shows the corruption and power in the global pharmaceutical industry and where Osterhaus is seen as the link with the global pharma mafia. The following article clearly analyses this situation and where Nature Magazine is a tool of Big pharma and not what people think, a prestigious science magazine. The truth is that Nature magazine are at the heart of the pharma mafia with the wrong information and propaganda that they push for the mighty pharmaceutical industry turning over $1 trillion a year and growing.
The following concerns Osterhaus and Dr. Declan Butler's friend, who has systematically manipulated the WHO so that Big pharma makes tens of billions a year on 'false' pandemics (all paid by the taxpayer, you and me) It makes very interesting reading how corruption has corrupted WHO advisers and magazines such as Nature - 'World Health Organisation 'Mr Swine Flu' Under Investigation for Gross Conflict of Interest' - Note that this damning article was in 2009 and where pandemics have been totally turbo- charged since and the so-called Covid pandemic, just the start of a continual pandemic on the people of the world so that the Giant Pharmaceutical Corporations can make hundreds of billions annually out of the people's taxation - wake up people what is really going on for your own long-term good -
http://www.marketoracle.co.uk/Article15655.html
Chief Executive
World Innovation Foundation
9 December 2013 (updated 22 May 2021)
References:
note that more up-to-date references have been added since this initial blog in 2013 to the following Media references)
Violation Tracker Industry Summary Page - pharmaceuticals
https://violationtracker.goodjobsfirst.org/industry/pharmaceuticals
What really makes you ill – Two
Listen to this interview by a receptionist at a large northern medical practice with 20,000 patients and what she has learnt, seen and had access too through the Covid-19 Pandemic. It's a different story and you make up your mind if there is any truth in the interview or not?